JAMES "SPARKY" RUCKER
Biographical Information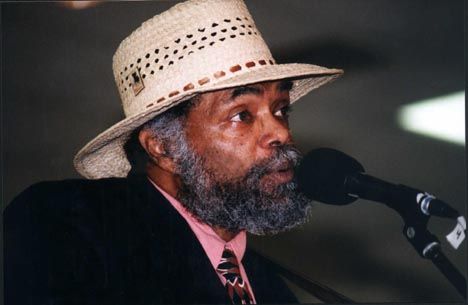 "Sparky has a rare musical talent combined with a scholarly interest in his material." 
SAM HINTON 
"Echoes of Woody Guthrie, Robert Johnson, Leadbelly, Mississippi John Hurt, and many others can be heard in Rucker's music. Yet he copies none of them. His style is his own." 
ROBERT TRUSSELL, The Kansas City Star 
"But it was earlier that day, at a concert given for a group of adolescents under less than ideal conditions, that he really proved how talented, sensitive, and versatile a performer he can be. Singing and spinning his stories at a Division of Youth Services locked-unit in Westborough, he won over a group of streetwise "cool dudes" who sat, skeptical and expressionless at first, waiting to see what the tall man dressed in western hat and boots was all about.... Well, Sparky Rucker showed just how charismatic he could be and ended up with this teen audience joining him on an old fashioned call-and-response gospel song. It was a little bit of magic by a very special man." 
JERRY VOVCSKO, The Evening Gazette,Worcester, Massachusetts
JAMES "SPARKY" RUCKER has been singing songs and telling stories from the American tradition for over fifty years. Sparky performs with his wife, Rhonda Rucker, adding vocals, guitar, banjo, and spoons to their music. They appeared on the Grammy-nominated CD, Singing Through the Hard Times, in 2009. Sparky has released sixteen albums, and their 1991 release, Treasures and Tears, was nominated for the W.C. Handy Award for Best Traditional Recording.
SPARKY grew up in Knoxville, Tennessee and began playing guitar at age eleven. He also played trumpet in the Junior High marching band and sang in church, school, and community choirs throughout his childhood.  
Sparky is descended from a long line of Church of God, Sanctified preachers and law enforcement officers, and his sense of justice stems from both of these traditions. Sparky's mother and father, who were church officers, instilled a love of singing in him as a child, and his mother also gave him a love of art and culinary skills. Sparky's raucous guitar and singing styles are a direct result of his having performed in many doo-wop, soul, and rock bands. 
Sparky has been involved with the civil rights movement since the 1950s. He participated in workshops at the Highlander Center with many prominent people in the movement, such as Rosa Parks, Myles Horton, and Bernice Reagon. During the 1960s, he served as Vice President of the Black Student Union at the University of Tennessee. As an activist, he worked with the Poor People's Campaign and several civil rights organizations, including SNCC, SCLC, and SSOC. He marched shoulder-to-shoulder with SNCC Freedom Singers Matthew and Marshall Jones and played freedom songs at rallies, marches, and sit-ins alongside other folksingers such as Guy Carawan and Pete Seeger. His support for others knew no color boundaries. He worked to win recognition and benefits for white Southern Appalachian coal miners as a staff member of the Council of the Southern Mountains in the 1970s. 
After graduating from University of Tennessee, Sparky taught school in Chattanooga before becoming a full-time folksinger. Although he no longer works as a formal schoolteacher, he and Rhonda now reach thousands of children each year as they travel across the country and give educational performances in schools and colleges.  
During Sparky's career as a folksinger and social activist, he has been on the boards of Sing Out! magazine, the John Henry Memorial Foundation, and the Southern Folk Cultural Revival Project (SFCRP). He also toured throughout the South with the SFCRP for several years with such luminaries as John D. Loudermilk, Johnny Shines, Ola Belle Reed, Dewey Balfa, Dock Boggs, Anne Romaine, Alice Gerrard, Hazel Dickens, Nimrod Workman, Hedy West, Mike Seeger, and Bessie Jones & the Georgia Sea Island Singers. 
Sparky's early blues mentors include Rev. Pearly Brown (who taught Duane Allman how to play bottleneck-style guitar), Buddy Moss (who taught Blind Boy Fuller), and Johnny Shines (who traveled with blues legend Robert Johnson). He also picked up pointers from Babe Stovall, Big Joe Williams, John Jackson, Robert Jr. Lockwood, and many others. The legendary "Blues Queen" Victoria Spivey pushed his career in the 1970s when Sparky joined the Spivey recording family. Sparky's expert blues and bottleneck style of guitar playing makes him a popular teacher at folk music camps and schools such as Common Ground on the Hill in Maryland and the Augusta Heritage Center in West Virginia.
Sparky is a contributing author for several books and anthologies, including the Encyclopedia of Appalachia, Breathing the Same Air, More Ready-To-Tell Tales, Team Up! Tell In Tandem!, and the August House Book of Scary Stories. For more information, visit Essays, Articles, & Anthologies.
As a keynote speaker and a solo performer, Sparky has appeared on NPR's Prairie Home Companion, Mountain Stage, and Morning Edition. Sparky has also performed at the Kennedy Center in Washington D.C., the Smithsonian Folklife Festival, and the International Storytelling Festival. 
Other performing credits include the American Folk Blues Tour in Europe, the Chicago Cultural Center, and the National Folk Festival at Wolf Trap. He has also performed at many other major festivals, including Philadelphia, Piccolo Spoletto (South Carolina), Winnipeg, Gurten-Bern (Switzerland), and the International Children's Festival at Wolf-Trap. 
Sparky's unique renditions of "John Henry" and "Jesse James" were used in the National Geographic Society's 1994 video entitled Storytelling in North America. He also performed in Carry It On and Amazing Grace: Music in America, two videos produced by the Public Broadcasting System.
For more information, visit these pages:
APPEARANCES, PROJECTS, AND AWARDS